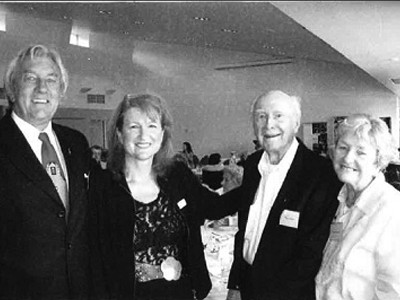 Our History
Cure Cancer Australia's origins came from two families who were impacted by the death of two courageous people, Leo & Jenny who both sadly died of leukaemia.
Leo & Jenny's families established trusts to fight leukaemia and cancer by raising funds to support research and treatment programs.
Out of these simple but inspired beginnings grew the Leo & Jenny Leukaemia and Cancer Foundation, now Cure Cancer Australia Foundation, which has many loyal donors who have supported us since 1967.
A message from the late Arthur Byrne - Co Founder of Cure Cancer Australia
We'll win, but we'll need your support
Over forty years ago, when I helped to set up the Leo and Jenny Foundation, the organisation that would eventually become Cure Cancer Australia, I was motivated mainly by the fate of my late brother Leo, who had contracted leukaemia. If we could support some of the country's most gifted researchers in finding a cure for this disease, and get other committed people involved, we could ensure fewer and fewer families suffered the anguish of losing relatives to it as we had.
Four decades on, the battle isn't yet won, but I am greatly encouraged. Our foundation has done wonderful work and continues to grow in strength. In so many fields of research, cancer is in retreat. Survival rates are better than they have ever been and we are unlocking vital secrets, seemingly on a weekly basis.
In the end, we will win this fight. It is a just matter of time. But we can shorten that time if more and more people join us in our quest.
To that end, every donation can help. Please support us by calling 1300 134 567 or by sending your donation to Cure Cancer Australia Foundation, PO Box R185, Royal Exchange NSW 1225.
- The late Arthur Byrne