Dr Clare Slaney – 'personalised' tumour targeting holds hope
Dr Clare Slaney's Cure Cancer Australia's research grant is focused on immunotherapy – treatment that stimulates the body's own immune system to fight disease – and it could proceed to an exciting clinical trial in the near future.
Clare and her colleagues at the Peter MacCallum Cancer Centre ("Peter Mac") in Melbourne have recently developed a potential new immunotherapy. They are now investigating how to harness specific microenvironments located in and around tumours in different parts of the body to enhance the therapy.
"Tumours have different microenvironments that can suppress immune responses and reduce the effectiveness of therapy," she says. "Manipulating these environments will enable better results for patients being treated."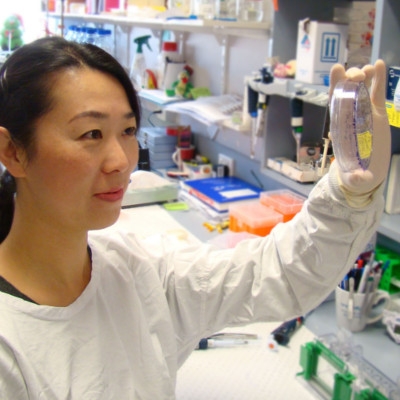 Her research is based on evidence and extensive work already undertaken at Peter Mac. In the lab, Clare has been able to eradicate large established cancers in mouse models, and once the mice rejected their tumours, she found they were resistant to the same cancer.
"Our overall aim is to understand how the characteristics of tissue in and around cancers can affect how well immunotherapies work," she says. "I'll determine why tumours in different parts of the body respond differently to immunotherapies in models of cancer and examine the microenvironment of human tumours from individual patients. This will give us further information about how we can apply our treatment to people."
If her efforts are successful, clinicians could eventually predict how individual tumours in different people respond to various treatments and design specific therapies to get the best results. In such "personalised" medicine, doctors may be able to target treatments to individual tumours, and where they're located in the body.
Clare has always been interested in her field. Her motivation was strengthened in 2009 when one of her family friends died of breast cancer.
This was a key reason why, immediately after graduating with her PhD in immunology in New Zealand, she moved to Melbourne and started work as a postdoctoral researcher in the field of cancer immunology at the Peter Mac.
In 2012, Clare was awarded a four-year postdoctoral fellowship from the National Breast Cancer Foundation (NBCF), co-funded by Cure Cancer Australia. In 2016, in addition to a Cure Cancer Australia grant, she was awarded a four-year Early Career Development fellowship by the NBCF and a prestigious USA Komen Foundation grant.
Her long-term goal is to become a leading breast cancer immunologist in Australia, and like other recipients – in addition to being frustrated by the amount of time it takes to write grants which eats up valuable research time – she's delighted with the funding support, which "will greatly help me achieve this goal. In fact, without the Cure Cancer Australia and other support it would be impossible for her to carry out any of the work", she says.
Believing that patience, persistence and effort are the key to successful research, Clare is bullish about where her hard work could ultimately lead. "I believe what I've accomplished so far and aim to do in the next few years will have a significant impact on the burden of the disease," she says.
Along with her husband, Dr David Slaney, Clare enjoys travelling, swimming and fishing.
Clare is solely supported by The Can Too Foundation.