Dr George Sharbeen - Determined to improve patient survival rates
Raised and schooled in Western Sydney, Dr George Sharbeen focuses his work at the University of New South Wales (UNSW Sydney) on identifying new therapeutic targets for treating pancreatic cancer.
Once a target is identified, George and his team use a novel nanoparticle – developed in the lab of well-known researcher Associate Professor Phoebe Phillips (twice a grant recipient from Cure Cancer Australia) in collaboration with the Australian Centre for Nanomedicine – to inhibit it in models of pancreatic cancer and stop tumours from spreading. This is the focus of his Cure Cancer Australia research grant.
"Our achievements to date include the identification of proteins in cell walls as therapeutic targets, and the development of a nanoparticle that can travel through the blood stream, enter pancreatic tumour cells and inhibit any target of interest," says 32-year-old George. His successes have been acknowledged by awards and competitive funding, including a Cancer Institute NSW Early Career Researcher Fellowship and an Avner Foundation "Woolies on Wheels" Innovation Grant.
"Our findings represent a larger body of work which has the potential to lead to more effective treatments for tumours in pancreatic and other types of cancer, and improve survival rates," George says.
George is very aware that such breakthroughs are needed, soon. Pancreatic cancer is the fourth-leading cause of cancer-related death, but is expected to become number two by 2030. It's hard to treat because of its highly chemo-resistant and metastatic nature, which is a result of the fibrosis that characterises the disease. "It's the most fibrotic of all cancers," says George.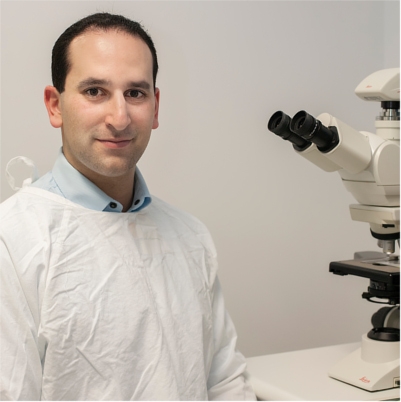 Understanding DNA repair
During the course of his PhD on the topic of cell cycle and DNA repair under the supervision of Dr Chris Jolly at the University of Sydney, George helped advance understanding of the relationship between the growth and reproduction of cells and DNA repair. In that time, he also gained specialised expertise in recombinant DNA technology and tests to measure DNA repair.
"It was during my university education that I really gained an interest in medical research," George says. "After my PhD I was eager to apply what I'd learned to pancreatic cancer research. Errors in DNA repair and uncontrolled cell division underlie all cancers."
George joined Phoebe Phillips' laboratory in mid-2012, and she and the lab's collaborating consumer (an informed community member who contributes to research) Gino Iori remain his greatest sources of inspiration. "I've lost two uncles to leukemia and Mr Iori lost his brother to pancreatic cancer. It's a constant reminder of the struggles patients and their families face. I believe it's my responsibility to ensure my work is always focused on improving patient survival and quality of life."
Grateful for his Cure Cancer Australia grant, George has this message for donors and fundraisers: your contributions are invaluable. "Your time, effort and donations not only give hope in the fight, they help fund future generations of research leaders who'd otherwise not get a chance to develop the track record they need."
Optimism and care
On a personal level, George views such support as a tacit acknowledgement of the optimism, care, perseverance and passion that the brightest young researchers generally possess – and which has most potential to make a difference. "To cancer patients and their families, I wish I could be in a position to say we have a cure, and I will continue to put all my efforts to make that a reality."
As with many people working in medicine, achieving work-life balance is a hurdle. "Cancer research deals with an urgent quest for better treatments in a profession that's highly competitive and unpredictable. It's easy to become consumed by work, so one of the biggest challenges is setting aside time to recharge and step back and re-evaluate research in the grander scheme. When a problem seems unsolvable and nothing appears to be working, take a step back, regroup your thoughts and tackle it from a new direction."
When he does find time, George, one of three siblings, likes indoor rock climbing but admits that the problem-solving skills it requires are as much an attraction as the physical exertion.
George is solely supported by The Can Too Foundation.