Dr Heidi Hilton – shock diagnosis equals more motivation
Dr Heidi Hilton, a Research Fellow at Sydney's Westmead Institute for Medical Research, aims to discover why the ovarian hormones progesterone and estrogen act differently in normal breast tissue and in breast cancer, and what drives the change.
Indeed Heidi, the recipient of two earlier Cure Cancer Australia grants, has already demonstrated in her work that, contrary to dogma, progesterone and estrogen act in distinct ways in normal breasts, but that these actions "converge" in breast cancer, the most commonly diagnosed form of the disease among Australian women.
She hopes her work will help researchers understand how abnormal hormone action may increase the risk of getting breast cancer – and how to prevent it.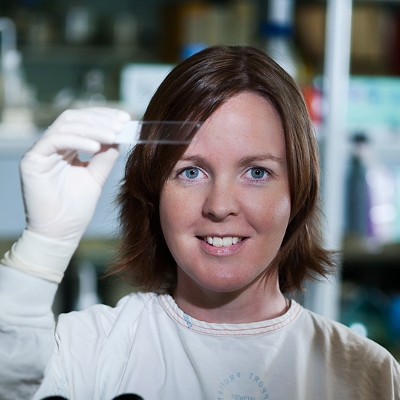 The link between hormones and breast cancer has been clearly shown by evidence that women who begin their menstrual cycle earlier or menopause later are at increased risk of getting the disease, says 37-year-old Heidi. "The use of some exogenous hormones, in hormone replacement therapy for example, can also increase the risk."
Soon after she had completed her PhD at Sydney's Garvan Institute in 2009, Heidi was herself diagnosed with early breast cancer. Along with the shock of the diagnosis, she at first felt that she didn't want to engage in research into the disease, but soon appreciated that her knowledge in the area was an advantage, which made her less fearful. After surgery and treatment, she also realised that she was lucky it could be treated, thanks to advances in medical research.
"Since then I've been even more motivated to continue working in research so I can make my own contributions to further advancing the field," she says.
"Her first Cure Cancer Australia funding was critically important for this work because it gave her the start she needed to launch her first independent research project", she says. It also allowed her to continue to raise her profile as a breast cancer researcher internationally.
"The funding has offered me and other early-career researchers unparalleled opportunities that provide critical stepping stones for us to build careers in cancer research and contribute to the significant advances made here in Australia."
Heidi laments what she believes to be a crisis in medical research, in which the success rate for gaining grant funding continues to decline. "Young researchers like myself are competing against senior professors, and so it's very difficult to attract our own funding from government bodies like the National Health and Medical Research Council."
She points also to the frustration of writing grant applications, which must be lengthy and detailed with significant preliminary data. Putting the applications together can take several months, yet the success rate is less than 15%.
Interested in science since she was a young child, Heidi had work experience in a cancer genetics lab when she was 16, which helped motivate her to complete a science degree in molecular biology and genetics at the University of Sydney. She's inspired by people like Professor Ian Frazer, who was instrumental in developing the cervical cancer vaccine and whose work has benefited millions of women.
Meanwhile in her spare time, Heidi and her husband, Ryan, love to spend time with their infant daughter, and enjoy good food and wine. "Getting old is a privilege denied to many," she says, "so enjoy every moment."
Heidi is supported by Fight on the Beaches.