Dr Lisa Mielke – bowel cancer project 'a fresh incentive'
Having uncovered the mechanisms that control the development of a newly identified type of immune cell, Dr Lisa Mielke is using her Cure Cancer Australia-funded grant to investigate the role of these cells in causing bowel cancer.
"We specifically aim to understand the role of the gene known as Tcf7 in the function of immune cells and how this influences the progression of bowel cancer," she explains. Her ultimate goal is to identify new biomarkers for early detection and treatments that could include vaccines for the disease.
Lisa, a researcher at the Walter and Eliza Hall Institute of Medical Research in Melbourne, received her first Cure Cancer Australia grant in 2013. Back then she investigated immune cells known to play a role in maintaining healthy bowel function, and, equally, their contribution to the formation of tumours. Her current research builds on the findings, seeking to identify novel pathways in cells that will lead to new drugs to treat bowel cancer and other illnesses including inflammatory bowel disease.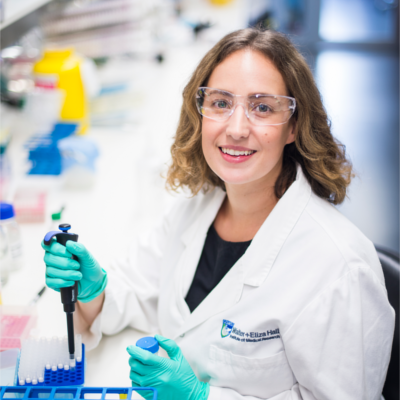 Highest incidence
Australia has the highest incident rate of bowel cancer in the world, Lisa says, with more than 17,500 new cases diagnosed in 2016. Yet due to a widespread shortage of funding for research, only 10% to 15% of grant applications are ever funded. "I spend about two months each year applying for funding, time that could be spent doing experiments in the lab or working on publications to communicate our results. It's very frustrating."
Cure Cancer Australia grants not only help close the gap, they give young investigators confidence and freedom to pursue their ideas and aspirations, she adds. "My project's a fresh incentive which brings together collaborators with immunology and cancer expertise. Without this important funding my work wouldn't be possible."
Born and raised in Sale, Victoria, Lisa has always been fascinated by how the immune system defends against and kills microbes, especially in the bowel, which is home to large numbers of them. "We appreciate that immune cells can influence the growth of cancer and hope to manipulate these cells to make them more efficient at killing tumours."
Lisa completed her PhD in 2009, during which time she initiated an international collaboration with the National Institutes of Health (NIH) Maryland USA. She then travelled to Ireland to pursue a postdoctoral assignment with Professor Kingston Mills at Trinity College in Dublin as part of the Immunology Research Centre (IRC), focusing her research on intestinal inflammation. Her current project is being run in collaboration with well-known cancer researcher and laboratory head Dr Tracy Putoczki.
"Almost all Australian families are touched in some way by cancer," says Lisa. "I try not to think too much about my own family and friends who are sick or have died from stomach or bowel cancer but focus on exciting research questions that have the potential to lead to new treatments."
Long research road
The road is invariably long, she reflects, but researchers have made astonishing advances in recent years. The foundations for the newest cancer immunotherapies began more than 30 years ago, with young people like herself asking fundamental questions about how immune cells function and what drives the growth of cancer cells. "This is why it's so important to continue supporting young scientists today!"
With a publication record including 29 papers and more than 2,000 citations relevant to her project, Lisa believes a key to success in medical research is to be "very passionate and excited about the questions you're trying to answer," as each project takes years and involves many hours of overtime in the lab.
Being the mother of an infant son adds more pressure. "Juggling work, meeting grant deadlines and being a new mum has been challenging. There are no extensions, even if you're on maternity leave, but it's definitely the most rewarding time of my life!
"It's easy to get caught up in the little things, especially when our projects are focused on a very specific question. But I often remind myself of the bigger questions we're all working towards."
Lisa is supported by The Denton Family Trust and Cancer Australia through the Priority Driven Cancer Research Scheme (PdCCRS)