A/Prof Steven Lane – 'genetic editing' can provide answers
A/Prof Steven Lane, head of the Translational Leukaemia Research Lab at QIMR Berghofer in Brisbane, has been supported by a Cure Cancer Australia grant before – in 2014. That support has already proven to be "a complete game-changer" for the laboratory.
The project his team worked on had examined ways to kill leukaemia cells by destabilising their genetic material. They showed that an enzyme in cells known as telomerase was able to kill leukaemia cells with minimal effects on normal blood counts. The work went on to be the subject of an important, widely received publication in the prestigious international journal Cell Stem Cell.
The team is now working on an exciting drug that targets telomerase, provided by pharmaceutical company Janssen, and hope this may lead to a new clinical trial for treating patients with leukaemia within the next year.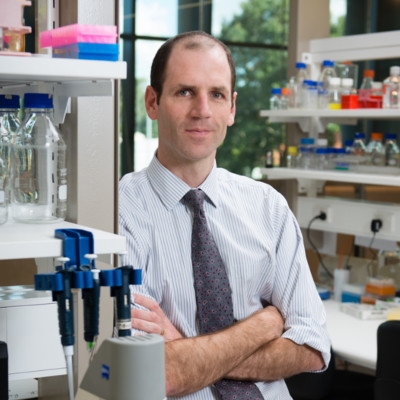 Understanding progression
This year's Cure Cancer Australia-funded project is completely different from the one supported by the prior grant. Steven and his team now seek to understand how patients progress from early stages of blood cancers – such as polycythemia, cancer of the bone marrow – to the more advanced stages such as leukaemia or myelofibrosis.
"We've used a new lab technique called genome editing to alter the genetic code [DNA] in cancer cells," Steven says. "We've tried to mimic the DNA changes that patients with cancers develop and can use this exciting new technology to understand the effects the changes have on cancer."
He hopes this work can also revolutionise the way researchers use lab models to tell us about the way our genes influence the development of cancer, and responses to chemotherapy.
He believes the Cure Cancer Australia grants represent "a really amazing opportunity for young, enthusiastic researchers who want to get their ideas off the ground" and that more such ongoing support is desperately needed.
"The grants occupy a really special place in Australian research because Cure Cancer Australia believes in young researchers and is prepared to support their development and great new ideas" he says. "The only way we're going to beat cancer is to think of new approaches, and young researchers with new ideas are the key."
Huge motivation
Every day, as a haematologist who treats people with blood cancers, he sees patients who are fighting the disease, and many – far too many – are unsuccessful in their fight. That alone supplies huge motivation for him to help seek a cure. He's inspired, too, by other haematologists who've used basic research to change the way patients are treated and to improve their survival – Australians like Geoff Hill and Tim Hughes, or international researchers like Brian Druker and Hugues de Thé.
"My research has mostly concentrated on the cells that cause the disease, the leukaemia stem cells," Steven explains. "These are essential for the leukaemias to develop and it's likely they're responsible for the disease coming back after chemotherapy as well. We've now identified them in different blood cancers and with this technology we have a brand-new way of targeting these cells in the lab."
Steven grew up in Queensland and went to the University of Queensland Medical School, where he received his Bachelor of Medicine and Bachelor of Surgery and subsequently a PhD in medical research. He studied at the Harvard Medical School from 2008 to 2011 and considers himself fortunate to have learned from leading haematologists and worked with many outstanding young researchers who are leading the way towards new treatments in leukaemia.
He enjoys cycling and running, but admits he still doesn't get enough time to do either. "I know many inspired people have raised thousands of dollars for cancer research through Cure Cancer Australia. I'm always in awe at their efforts, commitment and motivation."
Steven is supported by KangaNews, Kapstream Capital and Cancer Australia through the Priority Driven Cancer Research Scheme (PdCCRS)